English >> to visit >> The Philippsbourg's chapel
The Philippsbourg's chapel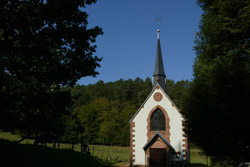 It was built in 1905-1906 in a particular style : a roof with a strong slope from which emerged narrow and high false windows, a real sharp and high bell tower, a porch with little coloured stained glass.
The interior, built in a rectangular form, contains a Gothic Style carved wood altar, a confessional and a "mini-sacristy".
The internal walls are ornamented with 14 pictures representing the Way of the Cross in a painted and poker worked way.
:: Les Services du site de Philippsbourg.